European Investment Bank issued the following announcement on March 1.
Record number of projects across Greece benefited from EIB financing in 2018
Greece largest beneficiary of EIB Group financing in 2018 in Europe by GDP
Speaking at the Delphi Economic Forum earlier today Andrew McDowell, European Investment Bank Vice President responsible for lending operations in Greece, announced that in 2018 new financing by the EIB Group in Greece totalled EUR 1.9 billion, including EUR 1.57 billion by the European Investment Bank and EUR 328 million of new commitments by the European Investment Fund.
"Close cooperation with public and private sector partners across Greece enables the European Investment Bank Group to support transformational economic, social and environmental investment across the country. Last year new financing by the European Investment Bank and European Investment Fund strengthened private sector investment and enhanced access to clean energy across Greece, and improved public services and climate resilience in Athens. As the EU Bank, the EIB is committed to unlocking priority investment here in Greece and I am grateful for the hard work of the EIB Group's dedicated Investment Team for Greece for increasing the impact of our financing and advisory activity in the country in recent years. As new Vice President responsible for EIB activity in Greece I look forward to ensuring an even stronger engagement by the EIB and EIF in the years ahead." said Andrew McDowell, European Investment Bank Vice President.
EUR 1.2 billion new support for private sector investment confirmed
Enabling private sector investment is crucial for economic growth and job creation and in 2018 the European Investment Bank and European Investment Fund provided a total of EUR 1.2 billion of new direct and indirect financing for investment by companies across Greece.
This included new direct financing to support to scale up specialist manufacturing and innovation by Xanthi based Greek battery firm Sunlight, and backing new investment by Athens based Veridos Matsoukis S.A., a leading printer of secure documents. Both companies are global leaders in their specialist sectors.
The European Investment Fund signed EUR 328 million of new commitments to support equity, guarantee and inclusive finance investment with 15 Greek partners that is expected to mobilise nearly EUR 2.9 billion of new private sector investment.
The EIB also agreed to provide EUR 731 million to support new credit lines managed by local banks active across Greece to support trade finance, leasing and SME finance.
Improving energy infrastructure and clean energy
Last year the EIB supported new investment in renewable energy, power distribution and transmission as well as promoting energy efficiency and security of energy supply.
This included backing construction of two windfarms north of Mount Vermio with a combined operating capacity of 44.4 MW and supporting new investment by the Hellenic Electricity Distribution Network Operator to reinforce and modernise electricity distribution across the Greek mainland and islands. The programme to improve high-voltage transmission is of national importance and will ensure reliable electricity supply to PPC's 7.3 million customers nationwide and improve remote monitoring of the electricity distribution network.
The EIB is also financing the Trans-Adriatic Pipeline, alongside 18 banks in the the largest project finance agreed for a European infrastructure project in 2018. The longest section of the TAP crosses Greece along a 550km route from Kipoi, on the Turkish border to Albania and the largest infrastructure project under construction in the country.
Supporting new infrastructure and private sector investment under EFSI
Greece is the leading European beneficiary of new financing under the European Fund for Strategic Investments when measured by GDP. The EFSI guarantee has enabled EIB and EIF financing for 29 projects signed over the last 3 years and supported innovation, energy and SME financing last year.
Strong pipeline of future expected investment
Looking ahead the EIB is currently finalising new financing for corporate investment, renewable energy and energy transmission and urban and maritime transport.
EIB financing in Greece three times the EU average
The EIB has EUR 19 billion of total outstanding financing in Greece, representing over 10% of national GDP.
Since starting operations, the European Investment Bank has agreed more than EUR 36 billion of financing for investment in 339 projects across Greece.
Original source can be found here.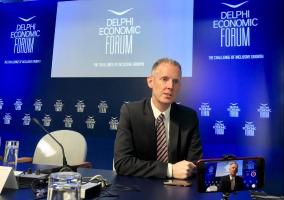 Source: European Investment Bank