Featured
By decision of IDBank Board Mher Abrahamyan was appointed as the Chairman of the Board.
read more »
---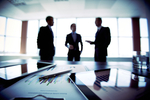 ABN AMRO clients will see sustainability scores for more investments going forward, allowing them to pick more sustainable options if they so desire.
read more »
---
The Central Bank of the Republic of Azerbaijan has approved the "Financial Market Participants' Knowledge and Capacity Building" target defined by the Presidential Decree of December 6, 2016 as "Strategic Road Map on Financial Services Development in the Republic of Azerbaijan" continues its activities.
read more »
---
On January 4, 2019 Foreign Ministry of the Republic of Belarus hosted a round table dedicated to the 100th anniversary of the Belarusian diplomatic service to be celebrated on January 22, 2019.
read more »
---
On December 27, Armeconombank and Singapore's EFA Group, a Singapore-based EFA Financial Institutions Debt Fund PTE.
read more »
---
---
---
---
---
---